Hello Friends,
With so much that's happened this year my first newsletter serves to catch you up and stay connected. I hope you'll sign up for the Newsletter to receive regular updates, great tips and how-to's, notification of upcoming events and inspiration & celebrations. Sign up here. I appreciate you spending some time here with me as I catch you up on what's happening.
Coping with Collective Trauma
Our shared traumas have created a demand for mental health support now more than ever. All of these experiences - global pandemic, racial injustice, enormous academic strain and extreme weather disasters - have led to profound challenges. I'd be lying if I didn't admit I've experienced moments of extreme stress, grief, and despair. And yes, I too am in therapy! In an effort to provide more support, I have been able to add a few teletherapy slots for new patients and get the downtime I need to be effective. I am meeting 100% virtually for now, but I am also looking for the "just right" office space to practice in the Cedar Park area. You can contact me here for scheduling.
Bonding with Puppy
I have been very busy with Winnie, a 6-month old, energized and intuitive Toller retriever who launched into our family in March 2021. I am in awe as I see the world through her puppy-lens. As I observe Winnie's growth, her early development confirms the research I've known about Modern Attachment Theory; which recognizes the important role of an early caregiver to help establish a secure base - the foundation of trust (Rocket & Carr, 2014). Winnie is allowing me to be that base for her. It is my intention for Winnie and our 9-year old dog, Gertie to enjoy assisting in counseling one day and to offer healing to my clients and myself. I am hoping for a win-win-win situation. I can't wait for you to meet Winnie and Gertie! You can follow our journey on Instagram at evolve.mindful.pup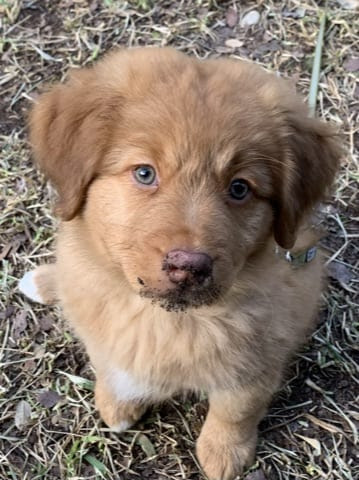 Mixing-up My Meditation
Several days during the week I have adapted my regular sitting practice of mindful meditation to merge with the pup(s). I have been participating in guided owner/dog meditations, here's one example I found at Insight Timer (link to pet meditation). I am finding that meditating my pup(s), has helped us bond further, enter a more relaxed state and prepare for sleep. It is my hope that meditating with Winnie will benefit the development of her little nervous system.
Exploring Holistic Healing
In addition to learning about the holistic healing powers of owner/pet mindfulness, I have also spent some time investigating various treatment tools that enhance (human) brain function and mood regulation. Over the past 12 years my practice style has always integrated mind/body interventions and neuroscience (Neurocounseling). As a neurocounselor and neurofeedback practitioner, I am always looking for the most up-to-date technology to improve emotional wellbeing. I've been playing around with several bioregulation, mindfulness and biofeedback tools that help the body better self-regulate and heal naturally. I am excited that Evolve Neurocounseling will be offering integrative tools in the future - more to come soon.
Thanks for deciding to share some of your time and attention here on my Newsletter.
Wishing you peace, health & joy and looking forward to more engagement soon.
Julie
Source: https://www.researchgate.net/publication/274344384_Animals_and_Attachment_Theory